Part 2 of our Spica Cast Story
Twelve long weeks have come to a close, and Maddison is officially out of her spica cast. Good bye purple cast, hello legs! We are so much closer to being done with hip dysplasia – and hopefully it's for forever!
On the twelve-week recovery journey, the last six weeks were the hardest
The first six weeks after the open-reduction surgery on June 15th seemed to fly by for us. The hip spica cast had become a part of Maddison, and the new routine of caring for the cast became second nature. We found our groove and I quickly felt like I was a spica cast pro! But what I wasn't prepared for was some of the changes that happened at the half way mark when they changed her cast on August 4th.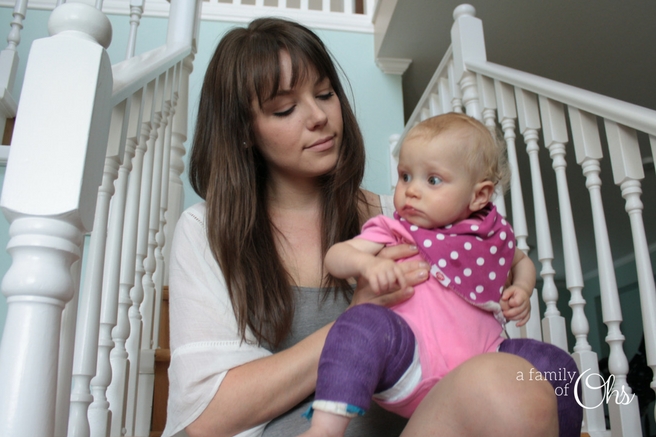 Changing the cast
I couldn't wait to rid the old smelly cast, and get a new one. Much to our surprise, on our cast change day we were offered the choice of a new waterproofed lining. We were told we would be able to bath her in this new cast, and wouldn't need to worry about her sweating either. I had seen some other families have a waterproof cast and it made me excited. No more stink? Yes please!
But that decision would quickly be regretted
The cast change was done under anesthetic and only took about 30 mins. But when we saw her in post-op I was instantly disappointed to see how tight the new cast fit. It was so snug around her little body. I missed the old cast. The old cast was so full of soft padding, and this one clearly was not.
I voiced my many concerns about how tight the cast appeared and about the accessibility to her feeding tube. I requested many trims be done to the cast, really hoping she wouldn't need a new one. We did our best to make the adjustments before leaving the hospital that night. Maddison's comfort is a big priority for me and I wanted to make sure she was as comfortable as she could be.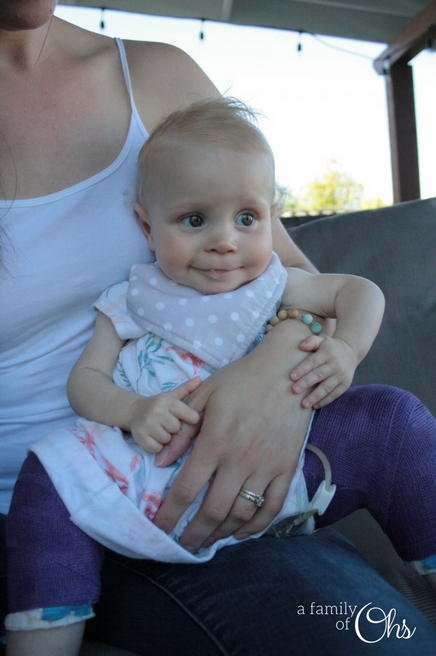 I couldn't say we were fully happy with the new cast when we went home that night. But we knew her hips were in the right position and that was reassuring. We were on the right track to correct her hip dysplasia, and the doctor said she was healing very nicely. I was sure things would work out just fine.
We were only home for a couple days when Maddison's feeding became worse than it had ever been in the past. I could see that the cast was pushing down on her Mic-key button causing her to not be able to handle her feeds and she would spit up all her food.
Time to go back to the hospital
She was starting to become dehydrated and I knew we needed to make some changes. We decided to head back to the hospital's emergency department to have more trims done to the cast. After a couple hours, we had the trims done, and headed back home, hoping our problems had been solved.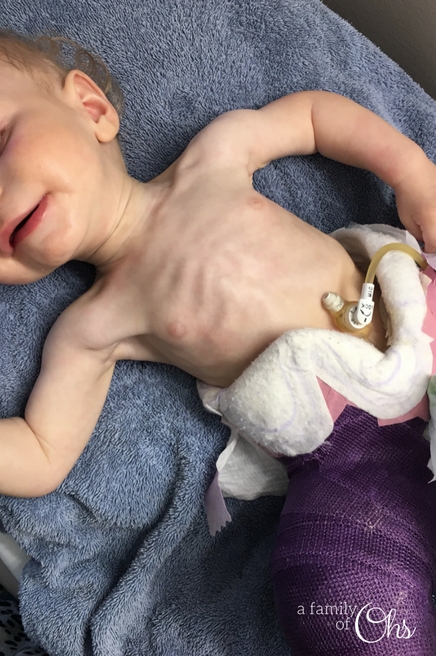 Life at home
Things weren't too different at home than they were with the previous spica cast. Although the cast was waterproof, and we were told we would be able to bathe her in the cast, I never did. I was so worried that water would get caught in little folds on her legs and damage her skin. Not to mention I added the petaling and Poise Pads for some extra padding around the top which is a no-no for waterproof casts. So essentially I eliminated the chance for it to be truly waterproof.
I don't have anything against waterproof casts, and I can see the benefit, but it wasn't ideal for our Maddison. I didn't like that it had little to no padding. Maddison isn't mobile so I had to be very diligent with changing her position every 2 hours to avoid pressure sores.
The edges of the actual cast were quite sharp and I ended up with many cuts on my own arms and legs. Knowing what I know now, I would choose a non-waterproof cast if Maddison ever needs another one (but that's not to say it might be good for your own child, each kid is different).
Cast off
We had survived the three months in the cast and I couldn't wait to get rid of it! We were counting down the days till we would see her legs again. But I had a growing fear that the surgery didn't work.
On the day the cast was cut off Maddison didn't even cry. I expected her to be scared of the saw, but she hardly flinched. When they cracked away the cast we got our first glimpse of her legs in 12 weeks. They were like skinny, limp noodles.
After seeing how limp her hips were, we were fully expecting her orthopaedic surgeon to tell us that the surgery didn't work. Much to our surprise an X-ray showed the surgery had been a success, and her hips were still in the right position! Phew!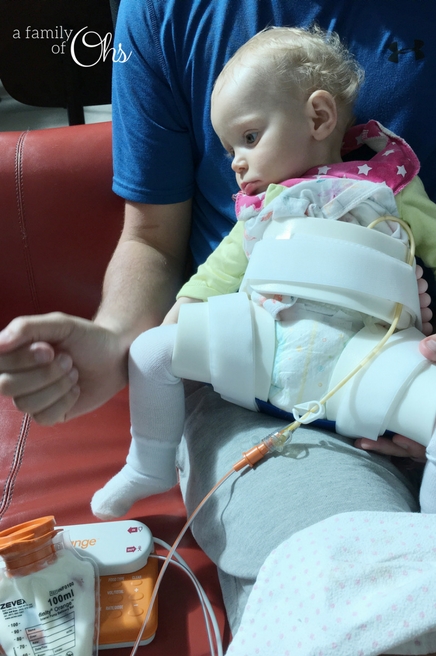 But we aren't done with hip dysplasia yet
To protect Maddison's healing hips she was placed in a Rhino Cruiser brace while her femoral head is still developing. The foam and velcro brace will be part of her wardrobe 23/7 for another 2-3 months.
The first night back at home I was able to bath her and hold her close. It was exactly what we both needed. I rubbed her legs with coconut oil to loosen up the dead skin and help it flake off – and there was a lot! (gross) And it appeared that her incisions were healing very nicely.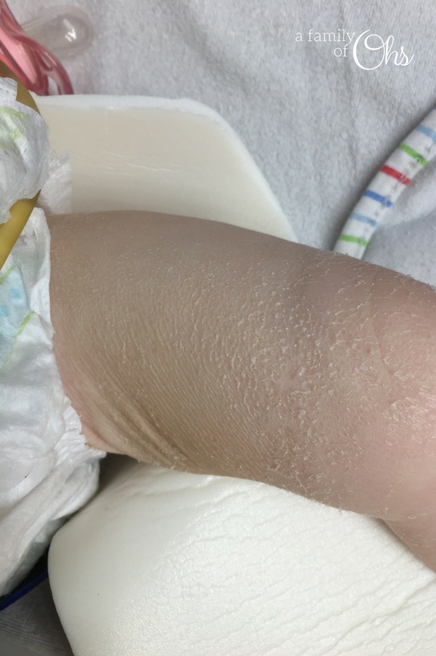 As I was bathing her I couldn't help but notice how much weight she had lost. I knew her feeding had been bad during her time in the cast. She was spitting up all day long, but only now could we see the full extent. Her tiny, little bony body wrapped in my arms and my heart hurt for her. She was lethargic, and clearly had no muscle mass or strength left. I had hope that since the cast was off now that her feeding would improve and she would quickly gain weight again.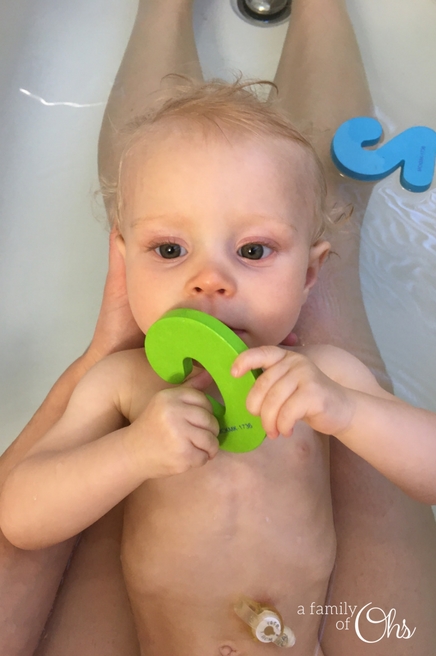 Unfortunately feeding her just isn't that easy. Hip dysplasia really took it's toll on Maddison and she lost so much weight during her time in the spica cast. I'm thankful that this surgery has been successful, and maybe one day she will have the chance to walk. But for now we just take things one day at a time.
A couple weeks after we said good-bye to the cast Maddison's feeding didn't improve and we had to admit her to the hospital for failure to thrive.