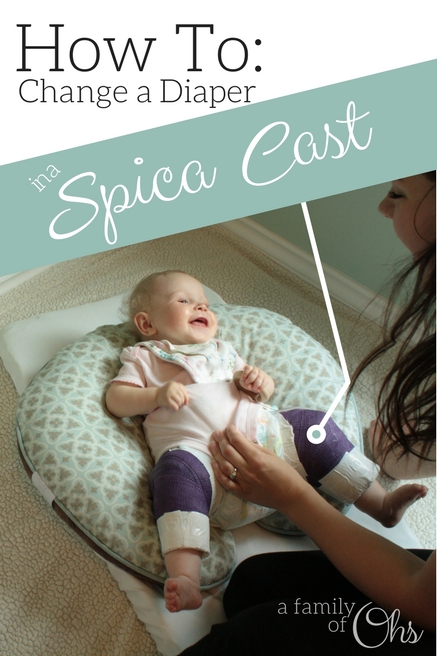 How to change a diaper in a spica cast
There's nothing quite like adding more complexities to changing a baby's diaper. When you baby is in a spica cast, like our Maddison is for her hip dysplasia, diapering becomes a little more complicated. Luckily, I've got the experience to show you how you can keep your baby's cast clean from diapering mess.
First, gather the supplies: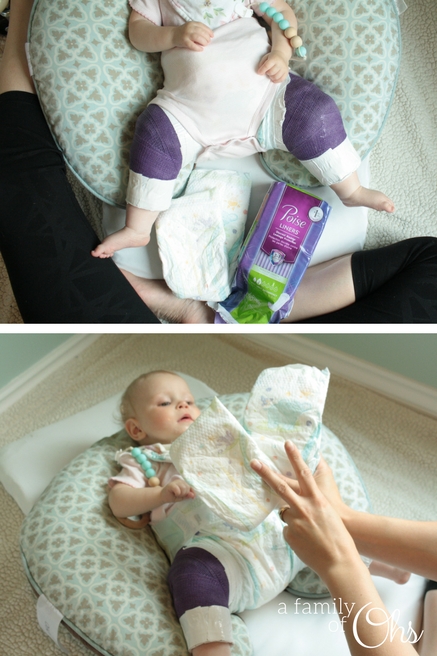 You will need two different sized diapers. One will be a smaller size than what baby was wearing before the cast, and one will be a couple sizes bigger. In Maddison's case, we use a size one on the inside, and a size five on the outside. Every baby will be different, but find what size fits the best for you. The larger sized diaper does not need to be changed at each diaper change, only once it is soiled.
Poise liners
work wonders as an added barrier to catch the pee and poop that might not stay contained in the inner diaper. These were an absolute lifesaver, and you can get them at almost any drug store. I'll show you how and where to apply them a couple steps down.
Get into position: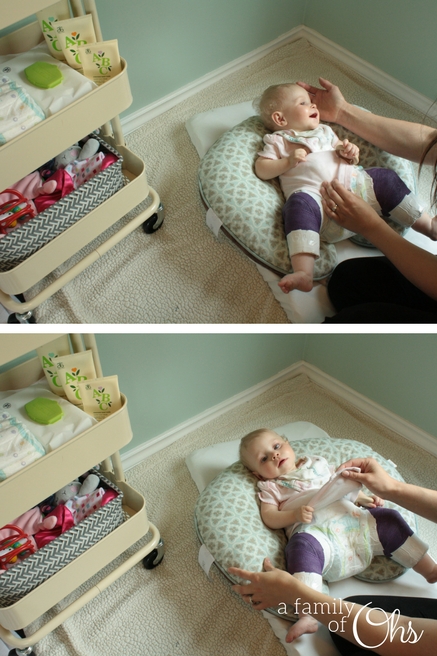 We placed Maddison on a nursing pillow for diaper changes, as it supported her head and legs while giving us access under the diaper area.
First, undo the outer diaper, and take out the inner diaper. Wipe up any mess, and check the skin for any redness that might need to be brought to the doctor's attention. Make sure all creases get some air and a chance to dry out before putting a new diaper on.
Putting on the Poise liners: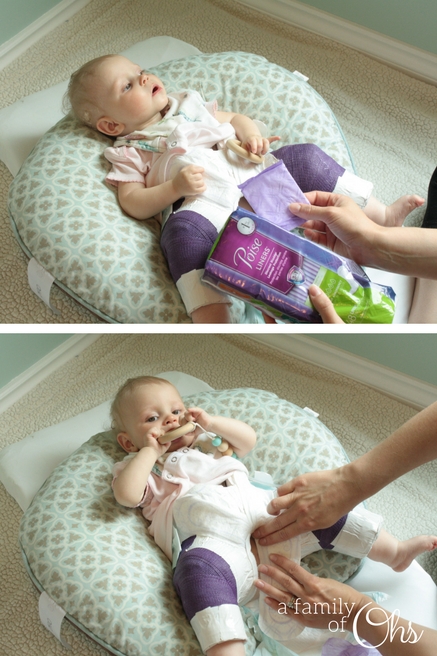 You should have (hopefully) already petaled the opening of the diapering area with duct tape while you were at the hospital. Petaling is when you use small strips of duct tape to tape where the inner lining of the cast meets the outer hard shell of the cast. (You do not petal a waterproof cast) The petaling portion is where you want to add the Poise liners. If the liners stick to the inner lining, it will pull out the padding if you need to replace the liner, so make sure you're sticking it to the duct tape and not the cast itself.
Run two liners along the inner groin area, two up by the crotch, and a couple up the backside. Try to stick them inside the cast as far as you can reach without sticking to the skin. Having these liners in place helped catch many messes when Maddison would have a pee mid diaper change. I hardly had any accidents up into the cast lining (which takes a very long time to wipe out and dry with a blow dryer on cool) So avoiding that all together is great!
Flipping over: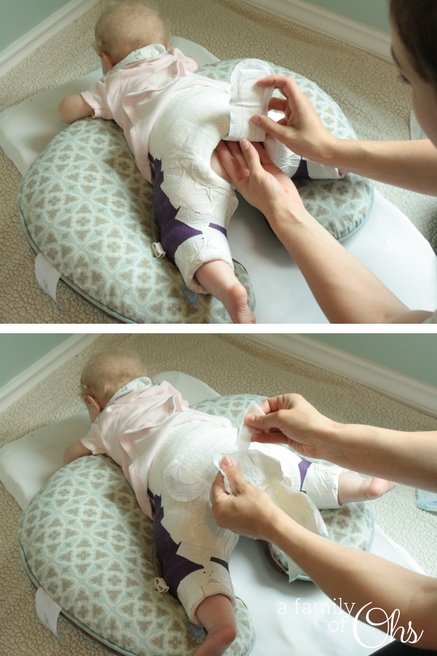 While baby is on their tummy, and all the liners are in place, grab the smallest diaper. Remove the tabs from the sides of the diaper, and then stuff the diaper up inside the back of the cast, as seen below:
Finishing touches: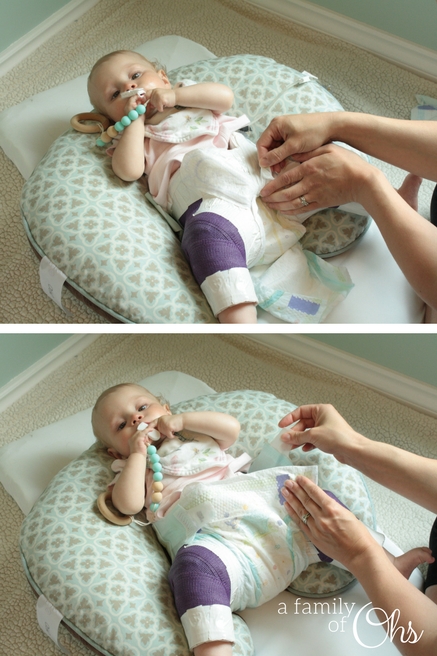 Flip your baby back onto their back and stuff the front portion of the diaper up inside the cast. Make sure there aren't any folds in the diaper, and it is smooth against the skin to help prevent pressure sores. Then slide the larger sized diaper under their bottom and fasten as per usual.
Good to go: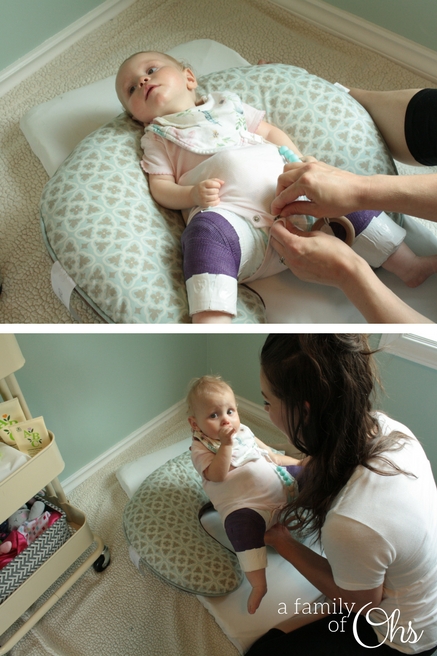 Dress baby in a cute onesie, shirt, or dress are you're ready to play!
Always check your baby's diaper regularly, and don't let them sit in a wet diaper for long.
What about an explosion?
It can happen, and it sucks. All I can say is put your big girl (or boy) panties on, grab a garbage bag, the biggest box of wipes you can find, a blowdryer with a cool setting, and a flashlight. You will probably (no, you WILL) end up with poop on your hands, but it's okay, you are a big girl (or boy) and you can handle it. Use the wipes wrapped around your hand and start shoving your hand into the cast to wipe out the mess. Use the flashlight to make sure it's all clean. Once you've cleaned out the cast you HAVE to dry it. Use a blowdryer on a cool setting (remember babies have very sensitive skin and they can get very serious burns from a blowdryer) and blow the air into the cast until dry.
If the blow-out was especially bad, and you can't clean it all out, then I would recommend calling your orthopaedic clinic. Have them to check the cast, and make sure there isn't any skin breakdown happening.
Have any tricks or tips I may have missed? Leave a comment below, and happy diapering!