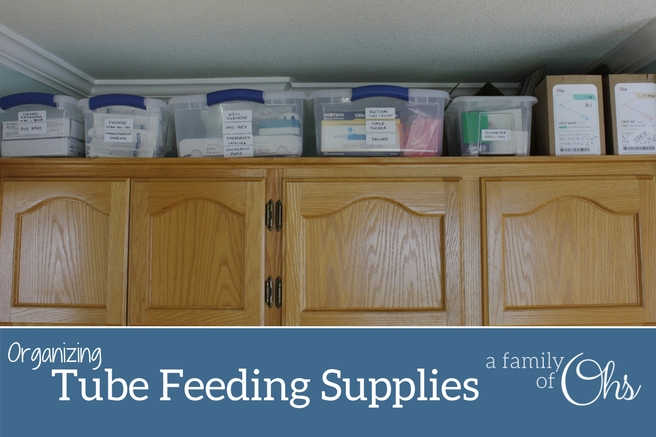 Making tube-feeding a little easier
There are a lot of supplies involved when your child is tube fed. Your home may be over run with all the syringes, tubes, and don't forget the boxes and bags that the tube feeding supplies come in. And it's not just feeding tubes, it can include other medical equipment (trach, suction machine, pulse oximeter, etc.), whatever you may get from your medical supply company. But if you have a organize system in place for when your order come in, it will make things flow a lot smoother. I have found that keeping Maddison's feeding supplies well organized has helped in the day-to-day life as a medical mom. If you're looking for some g tube organization inspiration, I'm sharing how I keep my tubie's feeding tube supplies organized!
This post continues some links affiliate links, and my opinions are genuine.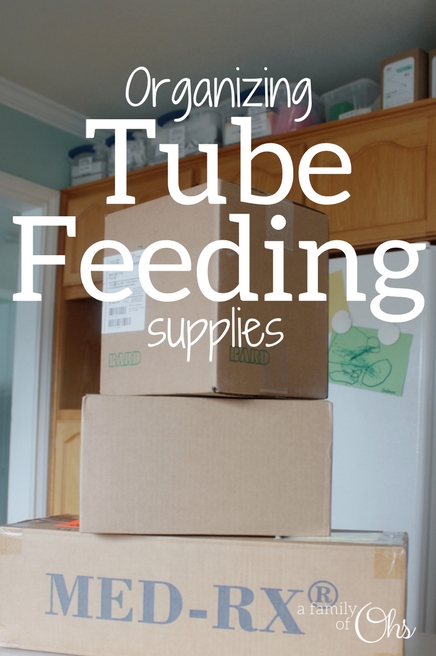 Ordering Supplies
Every month I check my inventory levels and place an order for the supplies that will help me care for and feed Maddison for the upcoming month. I have a list of how many of each item I am allowed to order, and how often I can order them. This includes tube feeding extensions, feed bags, tape, syringes, and transparent dressing. Depending on my supply levels I may also order supplies for Maddison's suction machine, or oximeter. I try to max out what I am allowed to order so that I don't find myself running short on supplies before I am allowed to order again.
Receiving the Order
Once the order arrives I take everything out of the boxes and lay it out on the counter.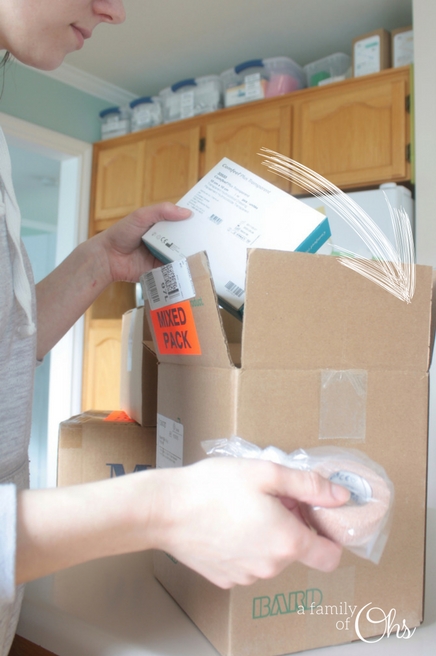 I cross check the order form, and make sure that all the supplies I ordered are indeed there and that nothing is on back order. The order form will then be filed and kept in Maddison's records.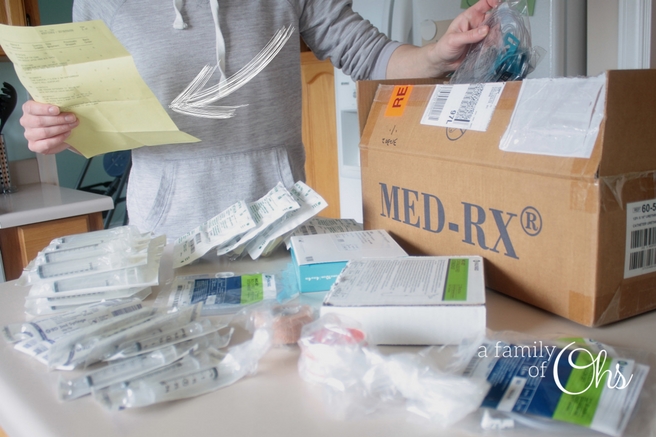 Organizing the Supplies
I have claimed the dead space above our fridge in the kitchen for Maddison's supplies. Luckily I am just tall enough that I don't need to use a step stool. There is enough space to slide in my clear latching lid storage bins from Sterilite. I use both 6-Quart
and 15 Quart
sizes to hold things like her extensions, syringes, and suction supplies. I like that these bins are clear so even though I have them labeled, you can still see what's inside.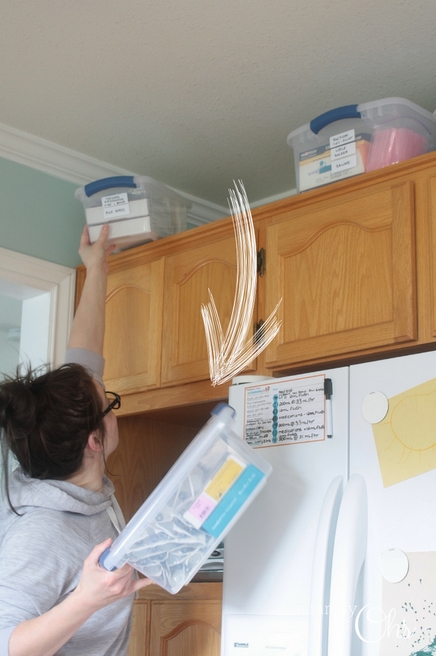 Distribution
Before I fill up my bins to put above the fridge, I first stock up my "every day" drawer of supplies that I have in Maddison's cupboard. This is a small three drawer unit
, also by Sterilite, that holds what I would need access to throughout the week. The drawer holds her 3mL and 10mL syringes, along with her tapes and some gauze. It helps that I don't have to reach up high every time I need a new syringe.
The remaining supplies go into the storage bins which will go back up on the shelf.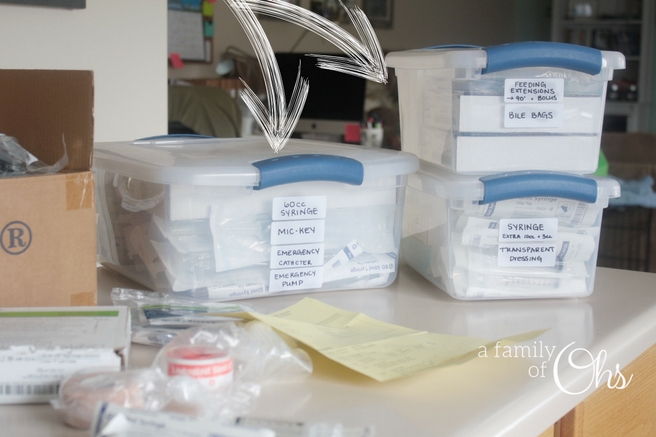 Maddison's feeding bags are put into a large lock lid bin that I keep in the pantry so I can grab a new one every other day.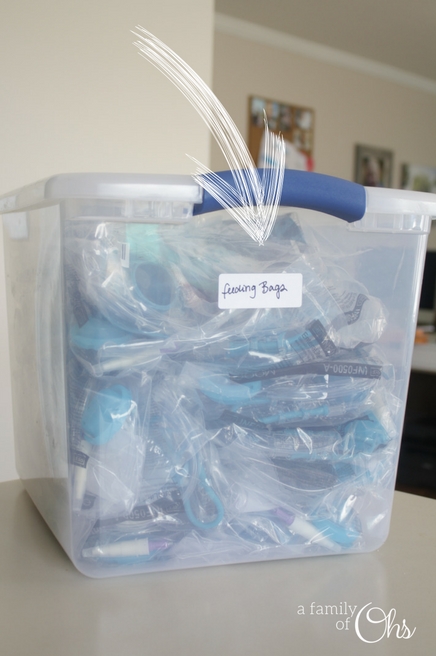 Maddison's cupboard
In addition, we have a shelf and a half in the kitchen that holds all of Maddison's everyday supplies. This has her small three drawer unit with the syringes and tape. It also has her bottles, formula, laxative, medications, and sterile flush water (water that has been boiled and cooled. Sterile water isn't necessary after 6 months, but it's a habit I've kept up).
In this corner of the kitchen I can easily prepare Maddison's formula and draw up her medications. It's a very straight forward system, with everything labeled. If anyone was to grab something that Maddison needed, it is all easy to see.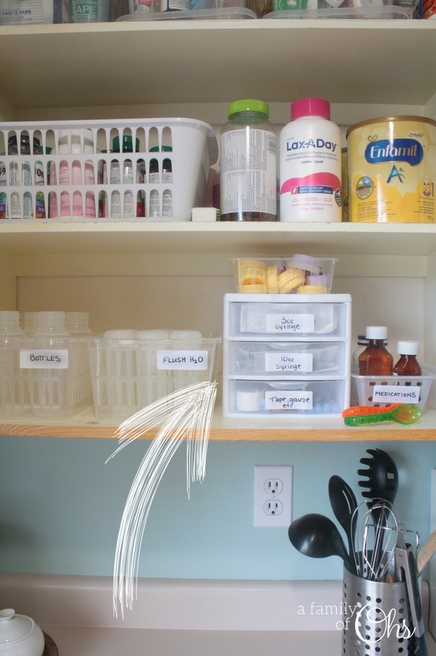 There is no lie that all these supplies have a large footprint in our kitchen. This is something we have come to accept. Our tubie Maddison takes up a lot of space in our house and in our hearts.
Happy organizing!