My favourite 10 items for raising a tube fed child
There are so many things involved when your child is tube fed (as if raising children wasn't hard enough). There are syringes, feed bags, pumps to operate, rates to calculate, dosages to draw up, and of course a lot of mess. It is a lot of hard work, and you can pretty much earn your degree in medicine from the amount of hours you will put in to feeding your child. But from one parent of a tube fed child to another, these are my top items every tube fed child needs (apart from all their actual feeding supplies). These aren't in any particular order, but I hope these tube feeding tips will make your life a little easier.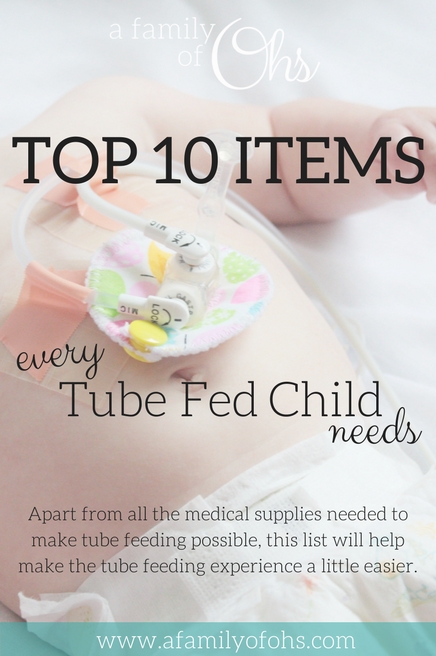 This post contains affiliate links, and my opinions are genuine.
1. Snap Down Pyjamas
There isn't anything much better than to be able to access your child's feeding tube in a snap! (pun intended) Snap down pyjamas take the hassle out of having to undress/redress your child for each tube feeding, and making sure the tubes come out the bottom during night feeds. Zippered pyjama's just don't allow for easy access, and must be modified by adding some sort of hole for the tube to come out or else it's coming out up by their neck. Skip the hassle and stick with snaps!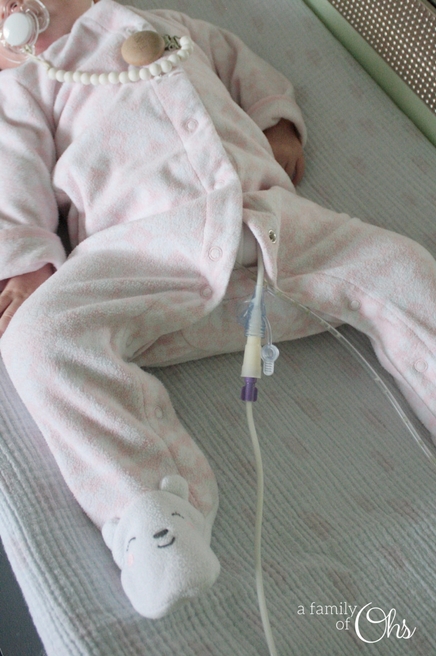 2. Onesies with access to the g-tube button
If you are having to access your babies feeding tube button more than once a day, you'll need them in an easily accessible clothing. I love the onesies that button down the front, like the one Maddison is wearing in the photo below. My daughter wears one under her clothes everyday! Like I said in my comment about snap down pyjamas, the snaps down the front make accessing the feeding tube a breeze. We found these button-down onesies at Babies R Us! You can also check out StarberryKids, or Tubesies for their adaptive clothing onesies with feeding tube openings. There is also Tummy Tunnels, who offer an iron on patch so that you can make any clothing adaptive.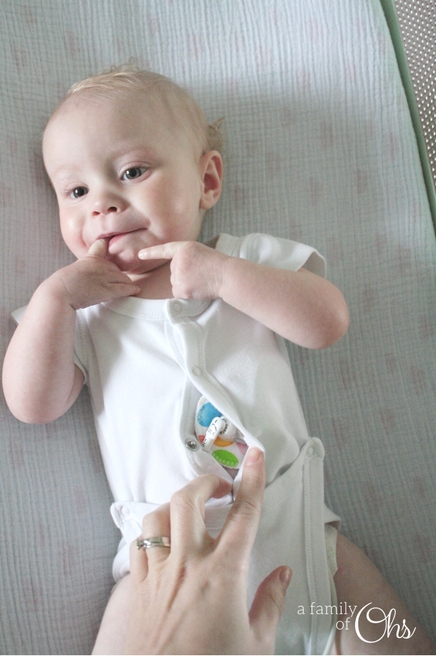 3. Zip down Halo Sleep Sacks
Halo knew what they were doing when they created their zip down sleep sack
. The zip down is handy when your baby is having a night feed – the tubing comes out the bottom and not the top! Maddison loved being swaddled.
4. G-tube pads
The first thing that I purchased for Maddison's g-tube was some g-tube pads from Fashion Tubies on Etsy. Maddison had developed some granulation tissue a couple weeks after her g-tube surgery. Her stoma would leak sticky goo and cause issues on her skin. It was awful. I wondered how to keep her g-tube site clean. G-tube pads were the answer!
Having a g-tube pad around her MIC-KEY protected her skin from any stomach acid that would be leaking out, and it healed her granulation with no medication (which isn't always the case). These are the softest I have ever felt, and have amazing absorbency. Depending on her discharge we will change her pad as little as twice a day, but it's worth it to keep her skin clean – plus they are cute!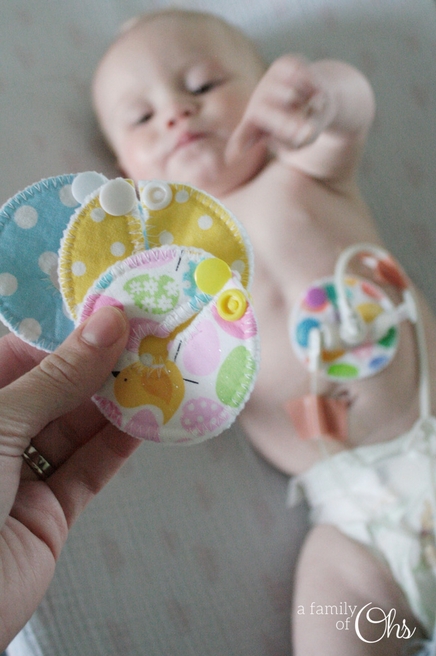 5. Command Hooks by 3M
Things are always changing in our house – especially where Maddison is being fed. Being able to attach these hooks
anywhere your child is feeds, and being able to move it without damaging the walls is a A+ in my books. You can pick up the hooks at any grocery super centre or hardware store.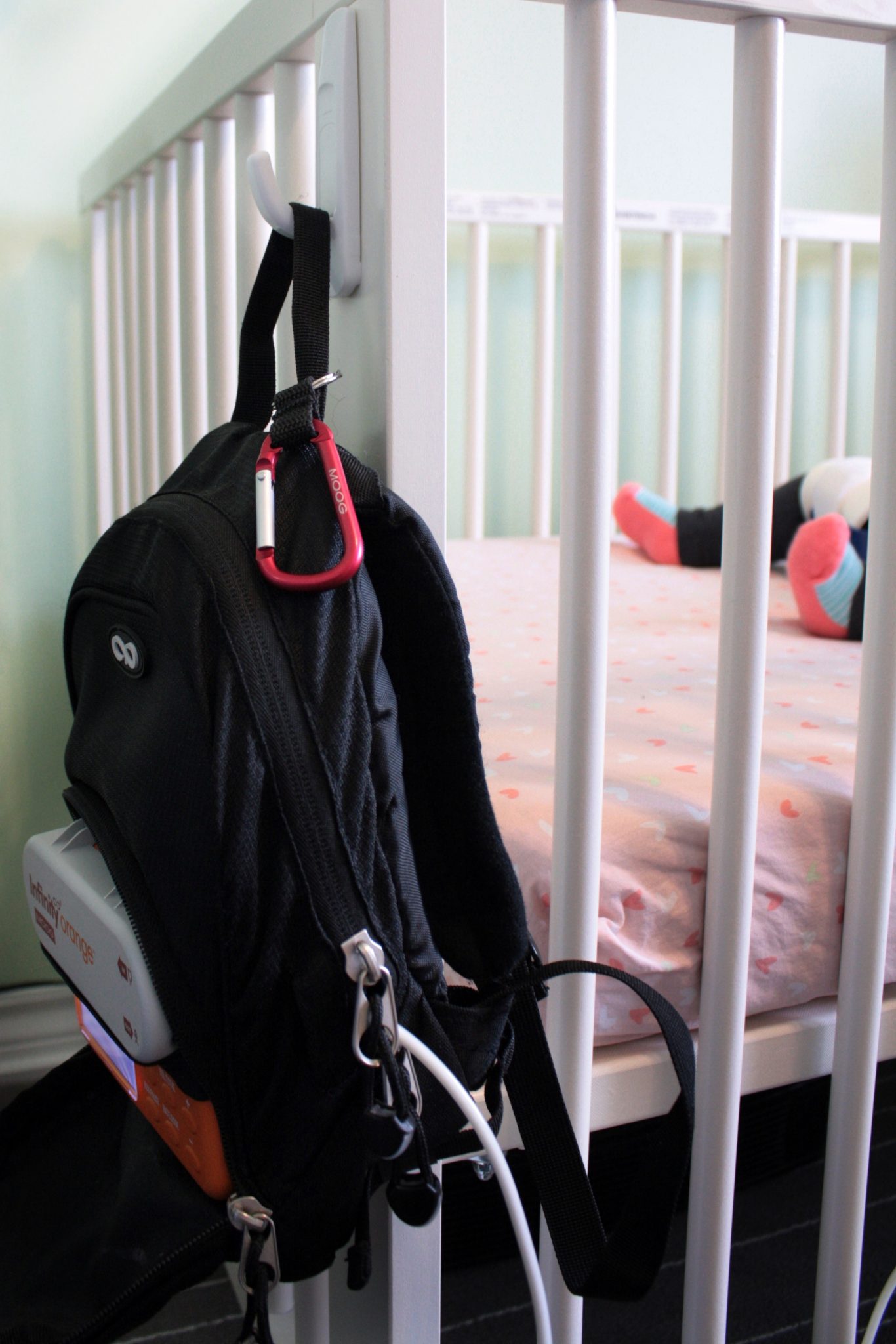 6. Carabiner Clips
Having a carabiner handy where there isn't a hook can be a life saver. We have this large carabiner clip attached to our stroller. Not only is it good for holding groceries, it's great for holding the feeding pump backpack! We also have a small carabiner on her backpack that we can hook up anywhere we go.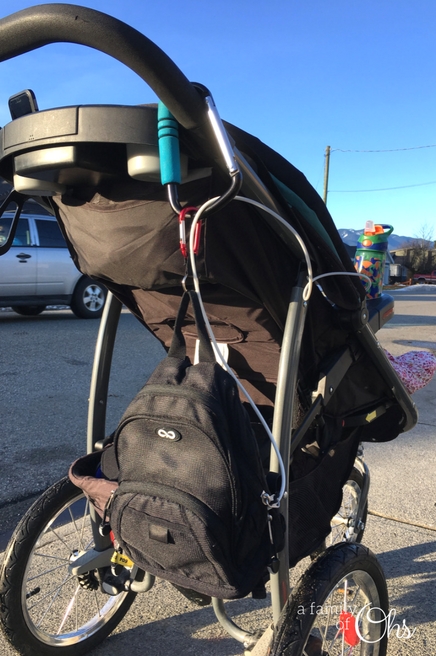 The backpack we use is the one our pump came with from MOOG, but there are some cute ones in the Etsy world.
7. Soothers
We have always wanted Maddison to have an association to taste in her mouth when she is being fed. Our doctor encouraged dipping a soother
in some formula or breastmilk before a tube feed to help connect flavour with the feeling of being full. I believe that having a soother helped Maddison feel comfortable with having things in her mouth, and we have been very fortunate to avoid oral aversion so far.
8. Toothbrush
Oral stimulation is key, and even though a tube fed child may never eat anything orally, dental hygiene is still very important. So a toothbrush is something a tube fed child needs. We brush Maddison's teeth twice times a day to keep her pearly whites fresh and clean.
9. Homemade Blended Formula Handbook
Even if you don't plan on serving homemade blended diet for your tubie, this book is loaded with amazing information on how to include your tube fed child at dinner time, understanding your child's feeding cues, facts about nutrition and so much more! I cannot stress enough how much this booked shaped me as a tube fed mother. So I would highly recommend the Homemade Blended Formula Handbook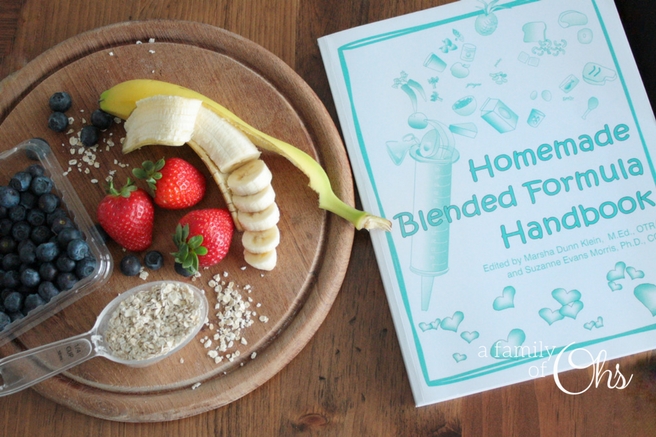 10. Munchkin bottle drying rack for syringes
There is always a lot of enteral syringes that need to be washed daily with tube fed children. We have fallen in love with our fuchsia Munchkin bottle rack when washing our tube feeding supplies. It holds all sizes of syringes, even the 1 cc by placing it tip down in the straw holder. It also folds up for easy storage – but let's be honest, I'm cleaning syringes 24/7, so this rack never gets a break. Grab one for yourself here, or at your local Walmart or Toys R Us.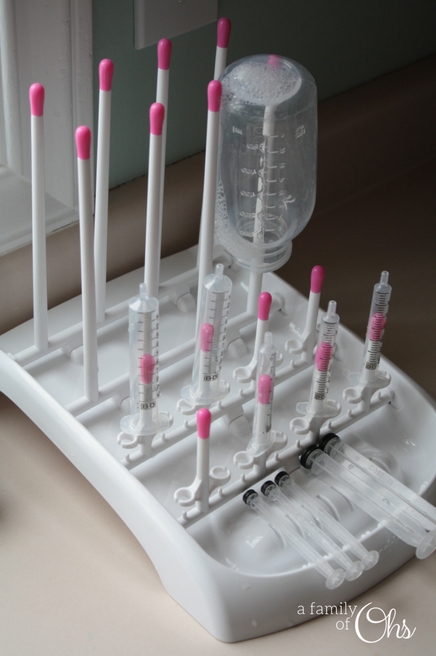 Honourable mentions:
Waterproof padding or liner for the bed – leaks and spills are bound to happen. Forgot to close the medicine port – done it. Forgot to actually hook up the feed to the extension – yep, me too. It's better to soak the sheets than the mattress, so protect it anyway you can.
NoseFrida (The Snotsucker) – If you don't have a hospital grade suction machine, I'll tell you that none of the battery machines work well enough, but this will be your best friend, there is nothing compared to this!
Small bag with back up/emergency feeding supplies to take in your diaper bag (I'll expand on this in a future post).
Large binder for medical information (I'll expand on this in a future post).
Our Maddison has been tube fed for over a year, and all of these things really have made a difference and help make things a little easier. If you want to know more about Maddison take a scroll through our blog, or check out her medical bio. I hope our experiences and help you on your tube feeding journey – and if you think I forgot to mention something, leave a comment below and share!